Table Of Contents
Polish Hall Directions
Application to Join Club
25 Year Club History
Club Officers
Gift Suggestions
Local Bands
Photo Gallery
Stampede photos


S.H.I.R.T. photos
2015 Special Events
Polka Stampede
Related Polka/Dance Sites
http://www.polkas.com/
Springfield PoLKofA
Polka 101 Dance Video
http://www.folkfire.org/
On line Broadcast
Visiting St Louis?
http://www.explorestlouis.com/
May 16th- Aunt Maggie's

Aunt Maggie's (230 N Main St, Columbia, IL 62236) will feature the live entertainment sounds of Clarence Kozuszek on piano accordion. The music will be from 6-9 PM. Come sample their great food, and stay for the music. June 20th, Aunt Maggies will feature the Button Box Band.

Sunday May 24th - Meeting and Dance

The club has a meeting at Polish Hall 826 Greenwood St, Madison, IL and is followed by a dance to live music. The meeting begins at 2PM and members and non-members are welcome to attend. The dance immediately follows the meeting and normally begins a little before 3PM. The Button Box Band is the featured live entertainment.



Did You Miss the Eddie Korosa and the Boys from Illinois Band at our last dance?

You can still listen and watch .. TVCracovia filmed the event and you can watch it here


Polka Party Dinner Dance Friday, May 29th at 6pm at Pere Marquette Lodge & Conference Center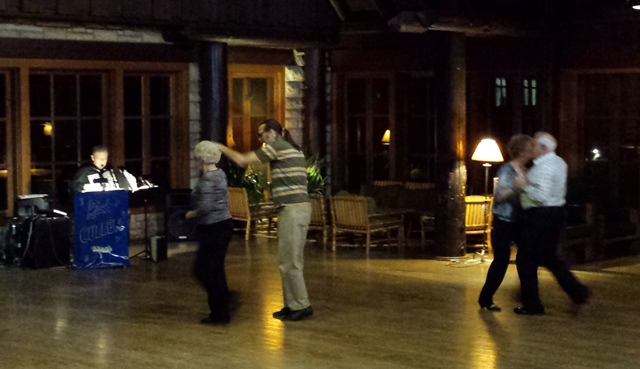 Come enjoy Pere Marquette Lodge's famous fried chicken buffet and then dance the night away to live polka music. Everyone is welcome to grab a partner and take a turn around the dance floor. Dinner begins at

6pm

in the ballroom and includes fried chicken, mashed potatoes, gravy, coleslaw, vegetable of the day, hot buttered rolls, dessert, coffee, tea and water. Dancing begins at

7pm

in the Great Room and goes until

11pm

. Additional beverages can be purchased in the Winery, Restaurant or at the Front Desk. Polka Party Dinner & Dance Tickets are $30 per person and include taxes and gratuity. Want to leave dinner out of the equation? You can also purchase a Polka Party Dance With No Dinner Ticket for $15. Visit their website http://www.pmlodge.net/2014/12/polka-party-dinner-dance-2/




Polka Stampede Photos Are On Line

Jeans, cowboy boots, kerchiefs and all western attire was seen March 8th at Polish Hall. Check out some of attendees in the Stampede photos .

What's a Polka Fest?

In case you've ever wondered what it's like to go to a Polka Festival, you can't beat the one that's held in New Glarus Wisconsin in June - the Roger Bright Memorial Polka Fest. This a combination indoor and outdoor festival with great music and lots of fun held in a small town which happens to brew the state of Wisconson's best selling beer - Spotted Cow. Photos from last year's event are posted http://www.flickr.com/photos/o2bkjn/sets/72157636132800615/. Many thanks to Dancin Donna for setting up this set of photos. Roger Bright's band played for the St Louis Metro Polka Club's festivals for many years. He passed away in 2001, but his music lives on, as does this festival.

Our Polka Dancers in Action Youtube Video

When you have some time to sit in front of your computer, you might enjoy seeing club members in action. We'll keep posting the videos for your enjoyment.
Eddie Korosa https://www.youtube.com/watch?v=1pErJB9ZN2Y&list=UUh7Xm4MwwXSCoDuB75Ne3Dw&index=1


Polka Connection https://www.youtube.com/watch?v=RXYvqROwZWE&feature=em-share_video_user
Polka Stampede http://www.youtube.com/watch?v=rJGVhPwl3bU
Eddie Korosa http://www.youtube.com/watch?v=vW6bqKyUul4



Need to Polka for an Upcoming Wedding?

Don't panic. There is no better place to learn how to polka dance than at at Polish Hall 826 Greenwood St, Madison, IL. Lots of skilled dancers are present and are willing teach you how to dance. Polish Hall has a wooden dance floor, and a separate bar area for the libation of your choice. The best time to learn is at the St Louis Metro Polka Club functions. You'll have better success if your shoes have leather soles, and if you have a musical choice for the polka, opt out of the Beer Barrel Polka, the tempo is a little ambitious for a beginner.


Become A Member

The club is always looking for new members. It's only $8 a year -- join in January for the maximum benefit. The benefits of membership include a quarterly newsletter, information on special events, and an opportunity to meet some of the nicest people who just happen to enjoy polka music and polka dancing. Consider joining at one of our meetings and get a blue and white pompom to help welcome the bands If you'd like to join by mail please complete.Application to Join Club and mail it to one of the officers listed on the application. Sorry, no on line applications can be accepted at this time.

Polka Music on Radio and Through Your Computer

Radio station WEW 770 AM has Polka programming on weekends.
Sunday 3:00 to 5:00 PM Polish Hour followed by Polka Plus with Anthony Kaminski
WEW also streams live at http://www.wewradio.com. If you'd like to request a song or become a sponsor to keep this type of programming on the air, call 314-969-7700 during the broadcast.
Webcasts that feature polka music on line any time you want are available. Yes, that midnight ramble to the fridge, could also take you to a computer where you'll be able to hear polka music pumped into your computers speakers. Each of the websites offer connections at high speed (Cable/DSL) or dial up. Enjoy! Prime Time Polkas offers the best in Slovenian / Cleveland style polkas and waltzes. Visit the On line Broadcast links on the left side of this page.