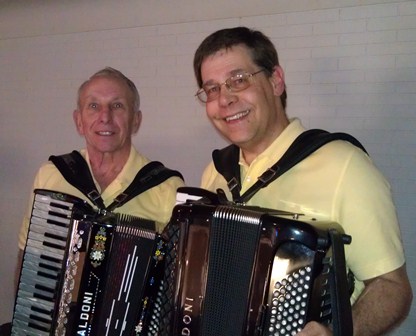 The Accordion Duo

Pat Auberry (on the right) and Sonny Buchmann (on the left) are a fantastic team of talented and versatile musicians that specialize in German Style music, but wow can they play all types of music. Pat masters the Baldoni Accordion and has and Sonny in addition to playing a piano accordion also plays a button box accordion.They routinely are hired for Ocktoberfests throughout the local area.

For additional information or music for any occasion call Pat or Anna Auberry 636-677-2621.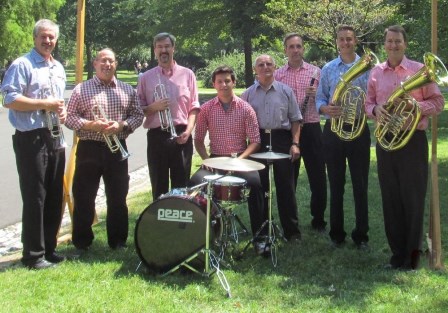 Brasshaufen - a pile of German/Czech Brass Its talented members are part of various local polka and brass bands. They share the love of playing a challenging style of German and Czech music and they love to entertain their audiences at festivals. You will hear some favorite German and Czech songs as well as enjoy dancing and listening to their wide variety of music.

Herbert Lorenz – 314-717-5303 or brasshaufen@hotmail.com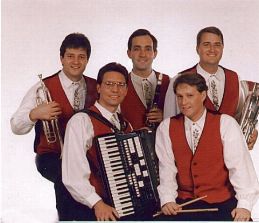 Die Spitzbuam (the Rascals) are a five-piece German band from St. Louis, Missouri. Since 1992, the members have celebrated their German heritage through contemporary and traditional folk music from Germany and other European regions. The band has performed at dances and festivals in Missouri, Illinois, Indiana, and Ohio. They add a German touch to Weddings, Anniversaries, and Fasching celebrations. The band schedule can be found at http://www.spitzbuam.org. They are popular at festivals throughout the Midwest.
Herbert Lorenz spitzbuam@hotmail.com 314-729-7565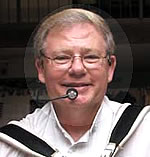 Dynamic Combo (or Solo Richie) Both providing the finest variety of music, Big Band - Jazz - Easy Listening and more. Rich on Midi Piano with Sampled Organ - Vibes - Strings - Clarinet - Accordion - Brass - Sax - Drums and Bass. Rich's website is http://richcullenmusic.com

Richard Cullen 618-281-5543 richcullen@charter.net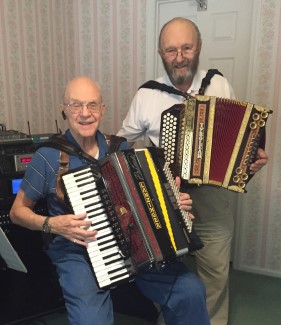 St Louis Entertainers The two piece group is a unique blend of a button accordion and a piano accordion augmented by an electronic MIDI system plus harmony and vocals. Pictured are Fred Buechner (piano accordion player), and John Schweiger (Button Box accordion player).

For additional information

Fred Buechner 314-845-1509 mbfbpo@gmail.com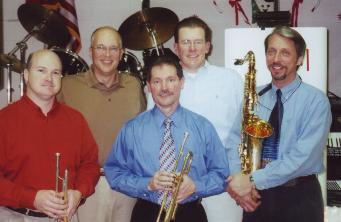 Dave Hylla's Good Times Band
The Good Times Band originated in 1975. It played 400 consecutive Sunday night dance engagements, over 8 years, at Polish Hall in Madison IL. Dave's current band has Vince Musielak on drums and vocals, Dave Bohnenstiehl and Jeff Steinheimer on trumpet, Jerry Cobetto on sax, steel guitar and vocals and Dave on midi-accordion and vocals. The Good Times still plays at many dances, weddings, anniversaries and parties throughout St. Louis and the Metro-East.
The Good Times Band is proud to have performed at the St. Louis Metro Polka Club's Annual Thanksgiving Polka Festival, Soulard Oktoberfest, and other festivals and truly enjoys keeping the tradition of Polka music alive!
Find Dave Hylla's Good Times Band on Facebook (https://www.facebook.com/hyllasgtb/).
Dave Hylla hyllalaw@yahoo.com 618-223-1288
Butch's Polka Kings Butche's Polka Kings have been in business since 1971. Call for bookings

Butch bsparwasser.retired@google.com 3409 Ahne Road Waterloo, IL 62298 618-806-8104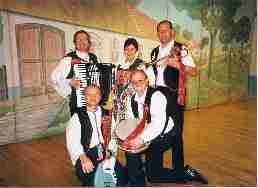 Click image above to enlarge
Joe Polach St. Louis Express - Specialize in ethnic music (polkas, waltzes, etc) Czech, German, Polish, Slovenian, Hungarian, Italian and a variety of American standard songs, country and rock n' roll. The band has been together 15 years and consists of 5-6 members. Perform songs in 5 different languages. Travels throughout the US and Canada. Routinely play at the following local public events (MO): American Czech Center for Czech day, Selsky Ples, Homecoming, Octoberfest St. Charles, American Hungarian Center, German Cultural Center, St Stanislaus Kostka Church, picnics, and festivals. Available for private bookings - wedding receptions and anniversaries.
Joe Polach polachjoe@yahoo.com 314-846-7335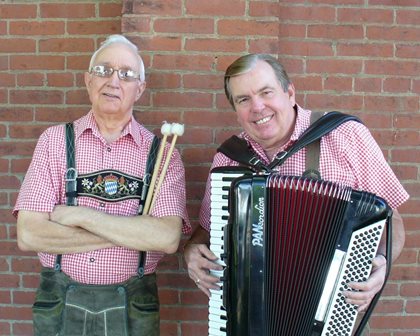 Larry Hallar's Two Star Final The Two Star final offers a spectacular range of polkas, waltzes, and American ballroom styles of music. In addition to public events such as the Strassenfest, the band is also available for private bookings such as weddings and anniversaries. Jim Confer the drummer is on the left with accordionist Larry Hallar on the right.
Larry Hallar larryhallar@yahoo.com 314-638-7186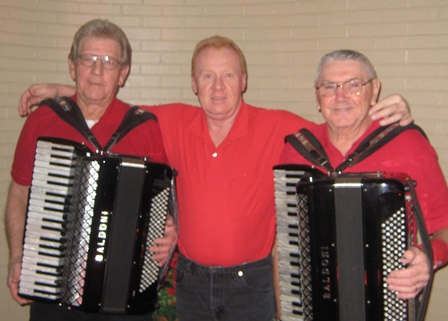 Polka Connection - Specializes in polka and waltzes and adds some country western for a little variety. Mike, the main squeeze, (on the right) has been playing the accordion for more than 50 years. New to the group is Ray Stanowski also on accordion, and Moe Keller accompanies Mike on guitar and vocals; and has been doing so for the past 20 years. The Polka Connection band was formed in 1989. Polka Connection plays at the Polishfest in DuBois IL and St Ann's Catholic Church for their fall picnic Dance and Polka Mass. The band plays at many Church picnics and summer festivals and many Octoberfests.

Mike Wisneski busybecky@live.com 618-787-4662