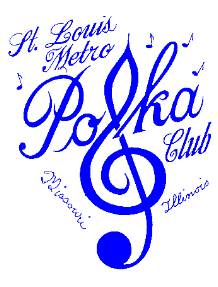 St Louis Metro Polka Club 1984-2009



The St Louis Metro Polka Club, a not for profit organization chartered to promote polka music and polka dancing had it's humble beginnings in 1984.



The logo actually came into existence before the club was formed. Stan Novak designed the logo to be stitched in Royal Blue on a white vest in early 1984. He and his wife Bernice would travel to various polka events throughout the country and would wear the vests to identify themselves to friends and out-of-towners. The vests sported their name, and people were drawn to them by the clever logo imbedding not only the G clef, but where they typically danced – Missouri and Illinois – and what they enjoyed -the Polka.

Stan and eight other individuals decided to form an official Polka Club with the State of Missouri and become a non- profit organization. They solicited for members and had 95 by the time the club was incorporated March 19th, 1984. The first meeting was in September of 1984. The by-laws were written and approved in October of that year. The by-laws detailed the responsibilities of each of the nine officers, mandated the use of Roberts Rules of Order, provided audit responsibilities, dissolution information and established the officer's two year term.



The initial board of directors were

:

President - Shirley Schultz

Vice-President - Eleanor Kania

Recording Secretary - Betty Peek

Treasurer - Stan Novak

Corresponding Secretary - Bernice Novak

Sergeant-At-Arms - Leroy Schultz

Director-At-Large - Joe Kania

Director-Constitution - Jeannie Knopik

Director-Social - Ray Knopik
The club's first public dance was held at Polish Hall on December 15th, 1984 with the Remede Band playing music from 8-12PM; tickets were $3.

The officers were extremely proud of their efforts to bring people together through the love of polka music. At the end of the first year 147 people had joined the club. Today twenty five years later, 43 of those charter members continue to be members of the club.

In a span of 10 years, the club membership reached over 800 members coming from twenty states, Canada and even as far away as Australia.



Club Prayer



In September 1987 the following simple prayer began to be recited before our business meetings and was adopted as the special prayer for the club. Its origins are from the Prayer of Mary, Queen of Scots.



Let us be large in thought, in word, in deed.




Let us be done with fault-finding and leave off self-seeking.




May we put away all pretense and meet each other, face to face, without self-pity and without prejudice.




May we never be hasty in judgment and always be generous.




Let us take time for all things; make us to grow calm, serene, and gentle.




Teach us to put in action our better impulses, to be straight forward and unafraid.




Grant that we may realize it is the little things of life that create difficulties; that in the big things of life we are as one. And let us not forget to be kind. Amen.





Fun and Interesting Club Facts



Dues were initially $10, but dropped to $5 in 1985. Dues rose to $6 in 1997. Dance admission increased to $6 in 2008.

The first out of town band that played for the club was Don Lipovac on October 25, 1985.

The first Christmas Party had recorded music.

In 1997 members participated in Ripley's Believe It Or Not! World's Largest Polka Band.

A typewriter was purchased in March 1987, a computer in 1992, and a new computer operating system in 2001.
Banners – (5'x5' embroidered -1993 and 2 vinyl all weather- 1995)



Volunteers



The club couldn't have been as successful without the people who volunteered their time. In addition to the members who have served as officers, we should recognize the efforts of those who have worked the door, served on the nominating committee, helped with the Christmas party, helped plan festivals, audited the books, helped with food, or sold raffle tickets.



Music Makers



As they say, music makes the world go 'round and with the many talented musical artists around the local area our selection of polka bands has been plentiful for our local events. St Louis Metro Polka club has been very fortunate to have had great local bands throughout our 25 years and are proud to list some of them – The Alley Kats, Danny Krausz, Die Spitzbuam, Dynamic Combo, Button Box Club, Herb Eberle Band, Heritage Band, St. Louis Czech Express, Joey James Orchestra, Jay Jay Polka Lovers, Joey Favuzza, Trio Freddi, Larry Hallar's Two Star Final, The Remede Band, Tune Twisters, and Polka Connection.

In addition, we've had a few notable musicians who joined the club including Polka Grammy winners Walter Ostanek and Jimmy Sturr, America's Polka King - Frankie Yankovic, and prominent polka musicians Dick Pillar, Jan Lewin, Roger Bright, and Marv Herzog.



Donations and Support



The club has donated to the following organizations in our effort to support polka music with our name recognition. These include Cardinal Glennon Children's Hospital, International Polka Association (IPA) Hall of Fame and Museum, Memorial Hospital, Jerry Lewis Muscular Dystrophy Telethon, Public Broadcast System (PBS), Polish National Alliance (PNA) Lodge #1134, Salvation Army, Polka Radio programming (DJ's Herb Eberle, Anthony Kaminski, Joe & Debby Wondolowski and Al Dreas); and a variety of ethnic youth dance groups (D'Froeliche Schuhplattler's, Croatian Jr Tamburitzans, Czech Besada dancers, Polish Hall Youth group,



Extra Efforts



Ed Warhol made the raffle ticket barrels, raffle spinner and flyer holders for Polish Hall. Shirley and Frank Langenhorst made the lighted state board that was present at our festivals and made a float which was decorated with the club banners on the sides. The float has appeared in many events showcasing polka dancing and our club. Clarence Schaffer made the club a beautiful photo album for display at our 20th and 25th anniversary dances. Evelyn Vets has provided home made healthy food for our monthly dances and theme dances. We applaud her and her helpers for providing this wonderful and tasty service.



Performances



On a few occasions several of our members performed at Tesson Heights Retirement Home, St. Clair County Genealogical Society, Strassenfest, and Eye on St Louis as well as other places. A few members danced to Frank Yankovic tunes behind the scenes while off camera during a pledge drive staffing phones for PBS KETC, although not a formal performance there was applause, along with the great fun. Dance Lessons Polka dance lessons have been given on and off since the club's existence. Within the past 10 years Shirley Schultz and Michael Bergmire have shouldered the lion's share of the formal dance instruction; however, they do not stand alone as many of our members willingly volunteer to assist. In addition to the standard polka, and hop polka dance lessons, instruction has also been given in the waltz, schottische, oberek and a number of line dances.



www.folkfire.org/polka



To provide wider exposure members voted on a motion in April 1998 to have a website. Operational January 9th 1999, Claire Andracsek has served as the webmaster since its inception. Updated monthly, the site includes: ◘ Membership applications ◘ Directions to Polish Hall ◘ Internet web cast sites ◘ Special events ◘ Event and fun photos ◘ Dance Schedules ◘ Radio Programming ◘ Gift ideas ◘ Instructional polka dance videos ◘ Local band information ◘ Links to Polka related web sites ◘



Joint Ventures



On several occasions, our club joined forces with the Springfield Polka Lovers Klub of America in sponsoring dances; profits were split between the two clubs. · March 1993 Roger Bright & Downtown Sounds of Chicago · March 1994 Mark Janson & the Brass Express and Gordon Hartman Band · March 1997 Kenny Brandt & Take 5 · March 1998 Steve Meisner & Force of Habit Additionally proceeds were split with the Polish American War Veterans when we hired Gennie O & The Next Step in March of 1999. Members That Have Served as Officers The board of directors is elected by the membership to act in the best interest of the club. Those in bold print have served 10 years or more and have attained free lifetime membership in the club. The work that goes on behind the scenes to make this club function has a great deal to do with the dedication and commitment that each of these officers has made to the club.



The Polka Music



It began with monthly dances. As our membership grew, occasional special events were added. Festivals began as 2 day events in 1988 and grew to 16 years of Thanksgiving weekend 3-day festivals. The club is now having fun sponsoring theme dances where you dress up – or down for the event. First established in 1996, the

Hawaiian S.H.I.R.T. Dance

has become the Clubs most popular theme dance. S.H.I.R.T. is an acronym for "Selling is Hard for Individual Raffle Tickets". The raffle tickets that were "hard to sell" were initially sold in order to add to the profits of the 3-day festivals. A cherished few sold the tickets, so it was decided to have a theme dance instead which provided a greater opportunity for profit making and required less effort.

The Polka Stampede

– a country western theme followed in the spring of 2001.

The Harvest Festival

a fall event in 2006 was short lived because dressing in fall colors didn't yield good photos. It was replaced in 2007 by the newest theme event

the Contrast Dance

which is held in November; dancers dress in their most contrasting attire – mixing colors, patterns and different styles of clothing. It is quite an amazing site to see just how far some of our members will go to be "contrasting".


Thanksgiving Weekend 3-Day Festivals



The Dance Committee Chairperson (or persons) was responsible for the festivals, in coordination with the Polka Club Board of Directors. The complicated orchestration of hiring the bands, making hotel arrangements, advertising, scheduling, and designing and printing flyers and tickets rested on the shoulders of Eleanor Kania from 1990 through 1997, Fran Janik and Ron Andracsek in 1998, and Ron and Claire Andracsek executed the chairperson position for the event until 2005. Lil and Chester Kopec were the door keepers for the first year, the following 15 years Fran Janik and her team of faithful volunteers monitored the doors at the festival, took in money and applied wrist bands to patrons. The festivals were lots of fun, but lots of work and were discontinued after consecutive years of low attendance, and negative profits. 1994 the festival achieved it's highest attendance of 600 Friday, 900 Saturday and 350 Sunday . Six of town bands were hired for the club's 10th anniversary
1990 Marriott/Polish Hall


Duane Malinowski
Freddy K
Verne Meisner
Downtown Sounds
Heritage Band
Jay Jay Polka Lovers
Polka Connection



1991 Marriott/Polish Hall


E-Z Tones
Walter Ostanek
Bob Doszak
Duane Malinowski
Polka Connection
Roger Bright



1992 Marriott


Terry Dutko
Danny Krausz
Gordon Hartmann
Jimmie Mieszala
Duane Malinowski
Joe Beno



1993 Marriott


Duane Malinowski
Vern and Steve Meisner
Chicago Milwaukee Avenue
Herb Eberle
Jay Jay Polka Lovers
Joe Beno


1994 Henry the Eighth

*
Joe Fedorchak
Toledo Polkamotion
Duane Malinowski
Chicago Milwaukee Avenue
Polka Nuts
Marv Nissel



1995 Regal Riverfront


Duane Malinowski
Toledo Polkamotion
Polka Quads
Don Lipovac
Polka Pals



1996 Regal Riverfront


Duane Malinowski
Julida Boys
Joe Fedorchak
Roger Bright
Polka Quads
Michigan Connection



1997 Regal Riverfront


Verne & Steve Meisner
Duane Malinowski
Crusade
Jodie Mikula
Take 5
Becky's Ivanhoe Dutchmen


1998 Regal Riverfront


Joe Polach Czech Express
Pat Zoromski Boys from Polonia
Good Times Band
Roger Bright
Polka Quads
Duane Malinowski



1999 Regal Riverfront


Casuals
Duane Malinowski
Julida Boys
Nick Mikula
Heritage Band
Roger Bright



2000 Regal Riverfront


Brass Notes
Duane Malinowski
Polka Nuts
Verne Meisner
Danny Krausz



2001 Adams Mark


Don Lipovac (vice R. Bright)
Duane Malinowski
The Casuals
Double Shot
Alley Kats

2002 Marriott


Jerry Tarka's Midwest Sounds
Duane Malinowski
Polka Quads
Steve Meisner
Trio Freddi



2003 Marriott


Double Shot
Duane Malinowski
Greg Anderson
Kenny Brandt
Rich Cullen



2004 Marriott


Mike McIntyre
Duane Malinowski
Hank Hallar
Pat Zoromski Boys from Polonia
Polka Connection



2005 Marriott/Hilton Pavilion


Brian McCarty
Duane Malinowski
Larry Hallar
Kenny Brandt
Top Notchman
Back to St. Louis Metro Polka Club Home Page
Modified 04 May 2009.