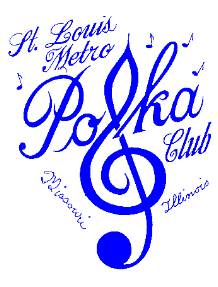 JOIN US
OFFICERS AND DIRECTORS
President - Ron Andracsek
Vice-President - Gerald Reed
Recording Secretary -Claire Andracsek
Treasurer - Shirley Langenhorst
Corresponding Secretary - Mike Bergmire
Sergeant-At-Arms - Chester Kopec
Director-At-Large - Joe Kania
Director-Constitution - Barbara Bergmire
Director-Social - Fran Janik
A non-profit club dedicated to the promotion of polka music. Your participation as a member is most welcome and will be much appreciated.
Membership Application
Please complete this application (one for each person) and return to:

SHIRLEY LANGENHORST          OR     MICHAEL BERGMIRE 
98 BIRCH LANE                       301 FAWN MEADOWS DRIVE 
GERMANTOWN, IL 62245-2002           BALLWIN, MO 63011-3818
618-523-4364                        636-527-8115
Membership dues $6.00 per person per year.
Junior members (age 17 and under) $3.00 per person per year.
Name____________________________________  Todays date  _________

Address_________________________________________________________

City_______________________________State_____Zip+4______________
 
Enclose check payable to St. Louis Metro Polka Club

Signature of Applicant _______________________________________

______________

Signature of Sponsor ____________________________________________

___________

(member in good standing)

Yes _____ You may publish my name, address and telephone number on a membership roster.

No _____ I do not wish to have my name, address and telephone number on a membership roster.

Back to

St. Louis Metro Polka Club Home Page